Delft, 23-24 May 2019
The consortium members and the scientific advisory board held the kick-off meeting of the project in Delft, the Netherlands. During this two-day event, each partner introduced their activities, and presented their workplan to meet the project objectives.
The Steering Committee met for the first time to discuss and approve the foundations of the four year-long project, which started on 1st April, 2019.
In total, 26 international participants affiliated with the seven consortium partners joined the kick-off meeting. The high-quality presentations followed by the scientific discussions and debates created a vibrant atmosphere, greatly appreciated by the scientists involved in the program.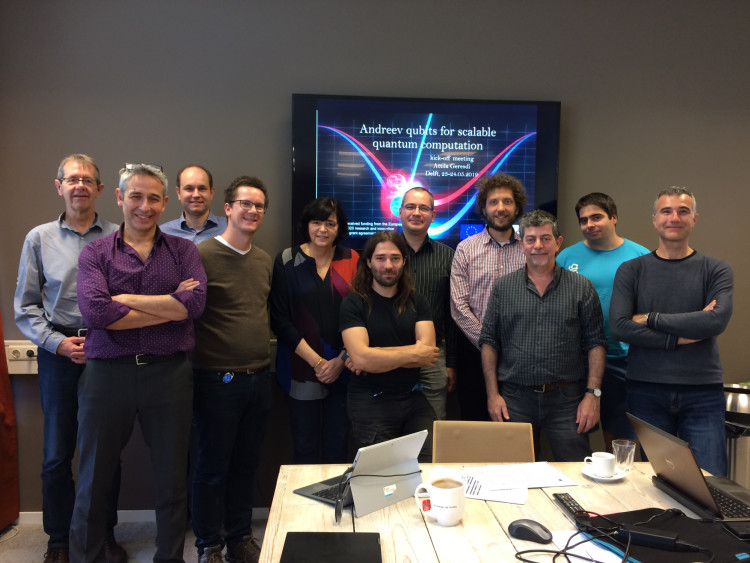 Location
Room B218
Delft University of Technology
Building 22, Faculty of Applied Sciences
Lorentzweg 1
2628CJ, Delft, Netherlands
Program
23 May
9:45
arrival, coffee & tea
10:00   
Attila Geresdi: Organizational matters & the AndQC consortium
10:30    
Steering Committee meeting
12:00
lunch break
13:15    
Christian Schönenberger, University of Basel
14:00    
Lucia Sorba, Nano-CNR
14:45    
coffee break
15:15
Michael Wimmer, TU Delft
16:00
Marcelo Goffman, CEA Saclay
16:45
Jesper Nygård, University of Copenhagen
17:30
discussions
18:00
departure for dinner
24 May
9:15
arrival, coffee & tea
9:30
Alfredo Levy Yeyati, Autonomous University of Madrid
10:15
Szabolcs Csonka, Budapest University of Technology
11:00
coffee break
11:30
Giorgio Biasiol, IOM-CNR
12:15
Attila Geresdi, TU Delft
13:00
Attila Geresdi: closing remarks
13:15
lunch, departure
See the pdf version of the program here.